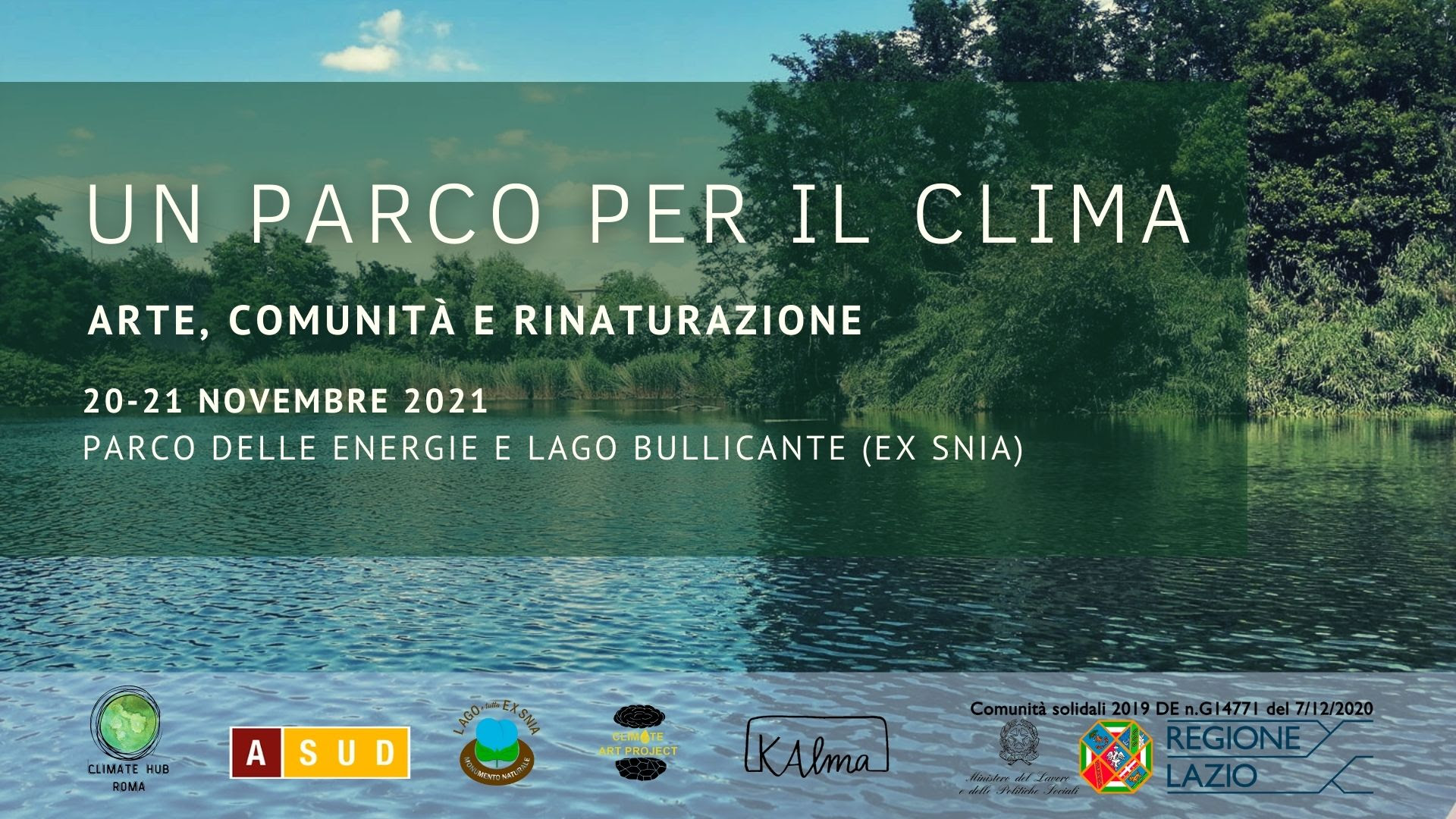 A Park for the Climate.
Art, Community and Renaturation
Two days dedicated to the planting of trees in the area of ​​Lake Bullicante and the Parco delle Energie in Rome to contribute to the renaturation of the neighborhood together with the citizens
Starting from the experience of protecting urban biodiversity carried out for years by the Forum of the Energy Park, on Saturday 20 and Sunday 21 November, participatory activities will be held for Roman citizens at the Parco delle Energie and Lake Bullicante, Ex Snia.
A few days after the end of COP26 and on the occasion of the National Tree Day on Sunday, A Sud , the Forum of the Parco delle Energie, CLIMATE ART PROJECT and K_ALMA want to contribute to the construction of a more resilient city by offering young and old moments of sharing and in-depth study on the challenges of climate change in our city and on the importance of green areas and active citizenship.
In continuity with the co-planning process between the Forum of the Parco delle Energie, A Sud, Climate Art Project and the climate art expert artist Andreco, the two days foresees the planting of trees within the area surrounding Lake Bullicante and at the Parco delle Energie.
The initiative will contribute in a concrete and participatory way to the renaturation of the Prenestino district, creating real "Green Classrooms", where it will be possible to enjoy an open-air environmental educational experience. The Green Classrooms, designed together with the artist Andreco, are works of Land Art, Climate Actions and Nature Based Solutions for the mitigation and adaptation of climate change and meeting spaces for open-air environmental education.
PROGRAM
Saturday 20 November 2021
11.00 Cultivating the future: practices from below and art for renaturation in the city
The fundamental role of active citizenship in the protection and care of green areas, hotspots for mitigation and adaptation to climate change in the city.
With Andreco (Climate Art Project), Lucie Greyl (South), Ornella Campitelli (Forum Parco delle Energie), Gabriella Guidi (K_Alma)
eXSnia – Parco delle Energie, Via Prenestina, 175, 00176 Rome
13.00 Social lunch
2.30 pm Creation of the Green Classrooms of Lake Bullicante
Together we will create the Green Classrooms of the lake consisting of concentric circles of trees distributed in quincunxes and designed according to specific criteria linked to the territory that hosts them.
Bullicante Lake, eXSnia, Via di Portonaccio, 230, 00176 Rome RM
Sunday 21 November 2021
11.00 – Collective planting at the Parco delle Energie
eXSnia – Parco delle Energie, Via Prenestina, 175, 00176 Rome
15.00 – "Seed bombs" workshop
Bullicante Lake, eXSnia, Via di Portonaccio, 230, 00176 Rome RM